7 factors to consider when selecting IT for your business
Business IT decisions should never be made hastily. The first question you need to ask yourself is, what are my business requirements (not just now but also in the future)? It shouldn't just be about the technology itself, but what is needed, who's going to use it, where it needs to be used and how it can best be used. That's why it's important to consider not just your business needs, but also your People needs when selecting IT solutions.
There are seven critical components to think about when creating your IT strategy (myIT's 7 'P's) – People, Protection, Productivity, Potential, Planning, Procurement, and Process.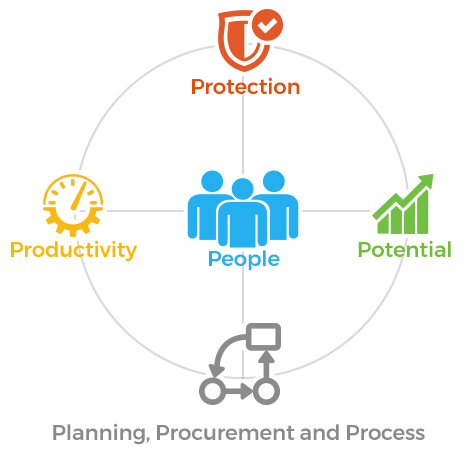 The other essential Ps that also need to be considered are Planning, Procurement, and Process.
Planning
We ensure you are effectively managing, supporting and evolving the technology in your business and maximising the value of your investment. We help your business with:
Strategy
Planning
Roadmaps
Procurement
We ensure you are investing and maintaining the right technology assets.
We help your business select:
Hardware
Software
Licensing
Finance
Process
We give you the confidence your decisions are driven by business needs not technology.
We help you:
Understand your business processes
Document your business processes
Identify technology solutions to improve productivity levels